Let me just preface this by saying this game is fantastic. There is so much depth, so many options, and most of all this game does a phenomenal job eliciting catharsis—which, in the end, in a video game's most important job.


For those that are considering OOTP for the first time, I would suggest you purchase iOOTP 14 or MLB Manager 15 on iOS or Android. It's a smaller, more compact version of the full game, but a very enjoyable version nonetheless. There are a lot of menus in OOTP 16 that a new comer is easily confused, but one sound run-through in-game will easily catch you up to speed.
New Features
The most important feature this year was the acquisition of a MLB license, meaning that OOTP 16 uses the correct logos and nicknames for all MLB, MiLB (Minor League Baseball) and historical teams. The license alone gives OOTP an air of authenticity that, while the game was certainly professional before, cements it as the go-to sports simulation game on the computer (and on mobile). The license is very well deserved and very much appreciated, as the MLB logos are front and center—er, front and right—on the start-up screen: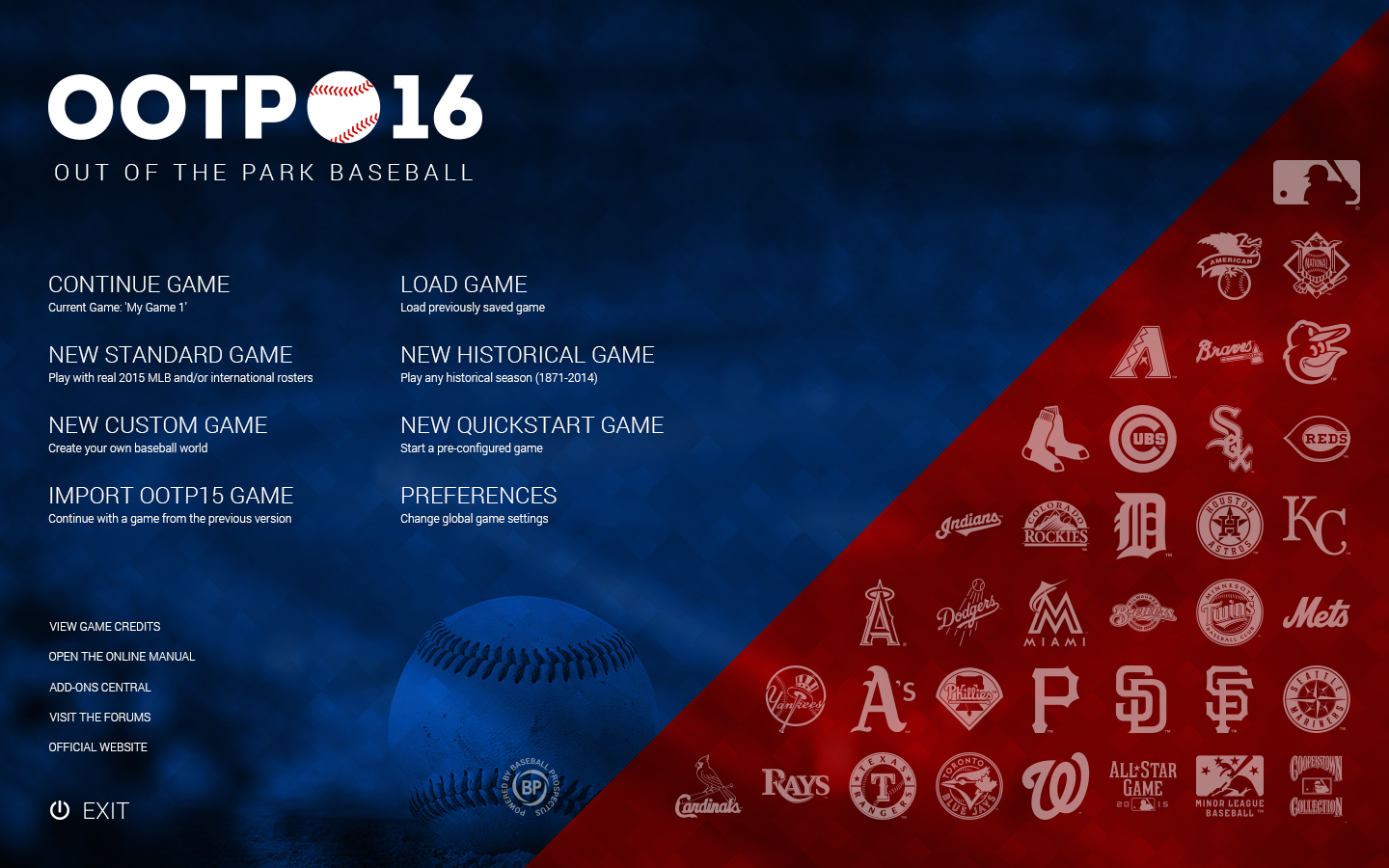 Another key new feature is the separation of Manager and GM positions. Upon starting a career, the player now has an option to either Manage a team (controlling only lineups, rotations, and on-field actions), be the GM of a team (controlling only off-field actions such as trades and player contracts) or to do both. In manager mode, you can literally manage any team in the game. I chose to start unemployed and signed a contract with the AA (third highest level of baseball) Jackson Generals. For my Manager & GM team I selected my hometown Toronto Blue Jays. The multitude of options therein epitomizes what OOTP brings to the table—choices to play the game however you wish.
In Game
Gameplay/Manager Options:

In the area where a text-sim game must thrive, OOTP goes above and beyond to make sure every facet of baseball is covered. 

Players have plenty of options before the game even starts and before a pitch is thrown. From pinch-hitters to warming pitchers up in the bullpen to advancing to a certain inning before playing to calling for a pitcher to hit the batter to calling an infield shift, bench managers have all options open wrapped up in a compact, easy-to-use package. The AI is very fair, there is a very realistic distribution of talent, and scores game-to game make sense. Through 30~ games so far, I've seen 16-2 wins, 14-1 losses, and 1-0 shutouts (the latter against me, sadly). Tension truly mounts as innings go by in a close game, joy is real and often vocal when your team comes back to win, and losses hurt. The catharsis in strong in this one, as Yoda would say.
Presentation:

The game has more camera angles than most major AAA titles (see NHL 15). There are default 2D angles, views akin to a Gamecast on MLB.com, and even three different 3D views—outfield, catcher and default (pictured below). Those views are incredible—in all three I feel in the game or surveying from above. The in-game screen in easy to navigate and provides plenty of information, be it pitcher vs. batter stats, team stats, or lineups. The MLB stadiums in game are replicas of their real life counterparts, meaning if you want to smash balls of the Green Monster in Boston, the you can do that—just another detailed feature that brings added immersion the game. It brings back memories of watching Game 6 of the 2009 World Series on MLB Gamecast. The only difference here? I'm the one in charge. 
This is what the Cleveland Indians'

Jacobs Field

 looks like in 3D—exactly how it looks in real life
GM Options:

Did I say that OOTP thrives on-field? Well, the off field product tops that. OOTP provides GMs with everything they need. There are the simple things—setting lineups and rotations, making trades—and there are the crazy things like budgets and Rule 5 drafts and everything those connote. While everything is quite impressive and authentic, it may benefit newcomers if a small tutorial was included in the game. However, if you know what you're doing the depth is incredible... and if you don't know what you are doing, the game will take care of it for you. Did I mention that before each series (when you are controlling a team in the MLB) your scout will provide you with a report on the team you are about to face? One of my favourite features is 7-game lineups, which allows you to set lineups for the next 7 days alone while not tampering with your full time lineup. This way if you want to match your top pitcher with another top pitcher, you can.
Presentation/Customization:

No arguments from me here. Everything looks very nice, from the league leaders to the upcoming matchup to the budget screen to the game preview screen. The game artfully supplies information, and a lot of it, but what I love is that you can customize your manager/GM/team/league home screen, placing different pieces of information in different places and deciding which info you want immediately available. Every player is editable, every league is editable, every single historical season since 1871 is playable (and it will continue as long as possible, with the player and game simulating trades, drafts, and team expansions), and you can customize your own league to your heart's content.
Yes, you can sign international free agents. Try doing this with any other sports game.
Not many complaints from me at all. I would love to see a little tutorial of how to negotiate the multitude of menus, but I think that one look at everything by a player is enough to suffice. The game also doesn't have any online multiplayer—online would cost too much for such a small team that just purchased a league license—but it is possible (by way of online transfer) to play in a universe with other players. I'll check that out. And really, those are about the only negatives.
OOTP Baseball 16 is another fantastic effort from OOTP developments. With new licensing, new features, and continued excellence in modes, gameplay, and presentation, OOTP is a must-buy for any baseball fans. Even for non-baseball fans, it is a fantastic way to learn the game and learn about the teams and players in any league. OOTP is playable whether you want to play for several hours or whether you want to play a quick game during a 10-minute work break. I close with my favourite example of why you should buy. Every player in-game has a sentence or two about their personality. On my managerial team, the Jackson Generals, there is a third baseman named D.J. Peterson who was the Seattle Mariners' 1st round pick in 2013. He is a power hitter. His personality piece is five words of gold:
"Enjoys boating in the offseason."
OOTP Baseball 16 Score (Mac) 
You and the game play together to achieve maximum satisfaction. That's a very high compliment that I can't confidently say about any other game.